Events across the globe have transitioned to a virtual environment. It's impossible to replicate the atmosphere of an in-person event online, but there are many things you can do to boost registration and engagement for virtual events. If you aren't sure where to start when it comes to transitioning your planned events over to a virtual environment, try implanting a few of the ideas we've compiled below. Your event is sure to be a hit!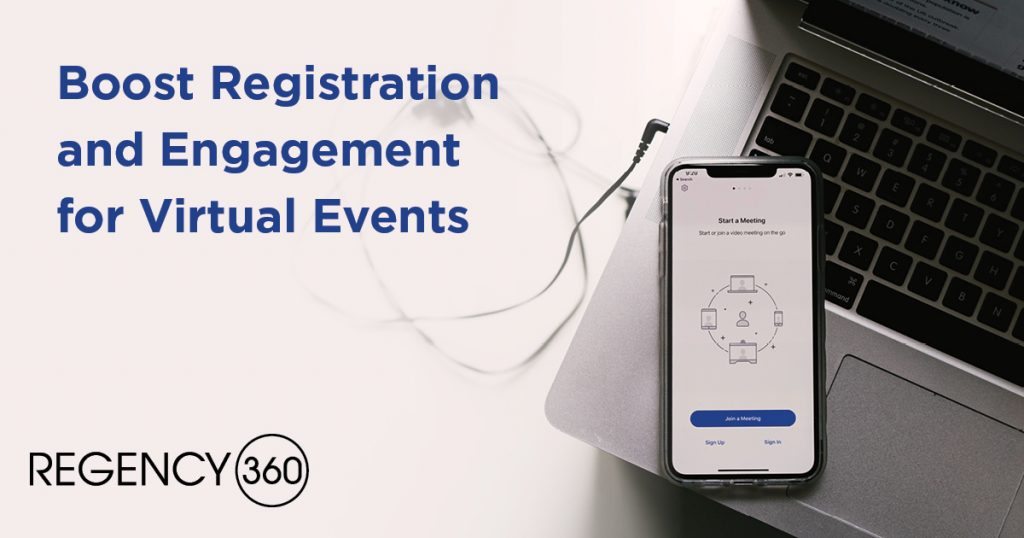 Food Voucher
Food delivery services are booming, and there are more options than ever when it comes to what you're hungry for. Send all registered attendees a voucher from a food delivery service such as GrubHub, UberEats or DoorDash. Encourage them to order from local restaurants to support the economy in their area. Even if your virtual event doesn't overlap with a meal time, this is still an excellent option as your attendees can order snacks, beverages, and other items to have on hand. Not only does this make your event feel more like an in-person experience with provided food and beverages, it also helps support local businesses wherever your employees are based.
Virtual Happy Hour
A huge element of attending in-person events is socializing with the other attendees. Typically this would take place during breaks in the event schedule, or after hours at a restaurant or bar. To keep the social element for your virtual event, consider having a virtual happy hour. If your event has lots of attendees, you can break up into smaller sessions so conversations can happen more smoothly. We've all experienced it – talking at the same time on a group video call, and the following awkward silence. Send your attendees a Virtual Happy Hour Kit that includes a gift card, a branded drink tumbler, and a list of virtual ice breakers to help get the party started.
See how the Regency360 sales team implemented a virtual happy hour into their weekly meetings to encourage success sharing and teamwork.
Yoga Breakout Session
Sitting at a desk for hours on end takes a toll on the body, especially during long video calls. If your virtual event schedule is lengthy, consider incorporating 15 minute time periods for participants to get up and stretch. One way to accomplish this is by having a yoga instructor teach a short virtual class for your event attendees. This gives everyone a chance to turn off the camera and recharge for the remainder of the virtual event.
For a list of great home workout products that you can customize with your company brand, check out this post.
Swag Bag
Some things never change – and one of those things is how much people love free swag. If your event budget has loosened as a result of not having to rent out a physical space, consider spending some of those allocated dollars on high quality, branded promo and apparel to send to your registrants prior to the virtual event. Wireless headphones, hardbound notebooks, insulated drinkware, casual dress shirts, Bluetooth speakers, and lightweight outerwear are just a few of the many higher quality options that you could brand with your logo. This provides a great opportunity to increase company brand awareness, as your virtual attendees are likely located across the country. Free swag is always a surefire way to boost registration and engagement for virtual events.
Prize Drawing
As your virtual event nears sign-off, have a drawing based off of all registrations for a prize. This is a very easy way to create excitement as well as encourage attendees to fully participate in the event. An extra vacation day or a digital gift card are two great prize options that don't involve shipping logistics. If you don't mind shipping, consider a high end product like a North Face backpack, JBL speaker, custom AirPods.
Chat Room Prompts
A great way to help your audience digest and retain information during your virtual event is by designating moderators to push out questions, highlights, and other important information about the content via chat. This will help your audience retain the key points of your event, get them thinking about important questions relating to the content of the event, and also provide a way to communicate updates and changes to the schedule that participants can go back and reference. You can also open up the chat for your audience to submit their own questions and comments. This is beneficial if your virtual event has a lot of participants and you want to avoid overlapping discussion.
Regency360 can help you boost registration and engagement for virtual events with these ideas, and many more. Additionally, we can make product sourcing and order fulfillment a painless process. Talk with us today about the options available for making sure that all virtual event attendees receive their branded materials.
---
1-844-726-6212
Find us on social!