We are thrilled to announce that PSDA has named Regency360 as a winner in the 2017 PEAK Awards.
PSDA's PEAK Awards program recognizes excellence in the print industry and promotes projects that display innovation, excellent quality and produce high return on investment. The award winners all truly embody the spirit of PSDA in their approaches to solving clients' challenges in creative ways. You can learn more about the PSDA here.
Held in partnership with the Print Education & Research Foundation (PERF) the PEAK Awards recognize industry firms that innovate and help customers grow. Since 1995, the program has awarded teams that make bold decisions, connect with customers in new ways, and deliver benefits to end users.
What was it about the entry, "Thinking Outside the Box", a customized promotional mailing program, that swayed the judges?
In a word, messaging. Specifically, a compelling and likable selling message that goes beyond an imprinted logo. Your goal? Drive meaningful engagement with your target prospects that translates into a measurable ROI.
At Regency360, we recently had a great opportunity to execute on that.
Our customer, a consulting firm, specializes in helping organizations reduce expenses. They had purchased a large quantity of metal puzzle safes that they wanted to deliver to top prospects as a "door opener." These puzzle safes were designed to be tricky to open, something that would hopefully spark a discussion amongst prospects on how they could unlock hidden savings. The problem was, not everyone understood the message, or connected it with the client's brand value proposition.
It was time to put some showmanship into their salesmanship.
As direct mail experts know, product packaging is your do or die moment—whether it's an outer mailer envelope or a three-dimensional showmanship piece. Sometimes a tease works, but generally it's better to communicate a consumer benefit right up front.
Yeah, that messaging thing.
We worked with our experts to create a dimensional mailing piece in the form of a shipping box that stood out from the ordinary, with personalized touches including the prospect's name, a personalized letter, and a note that clarified the puzzle safe. By moving beyond a simple promotional product and thinking about the goal, our team, led by Stephanie Page and Josh Jahn, was able to come up with a creative and effective solution.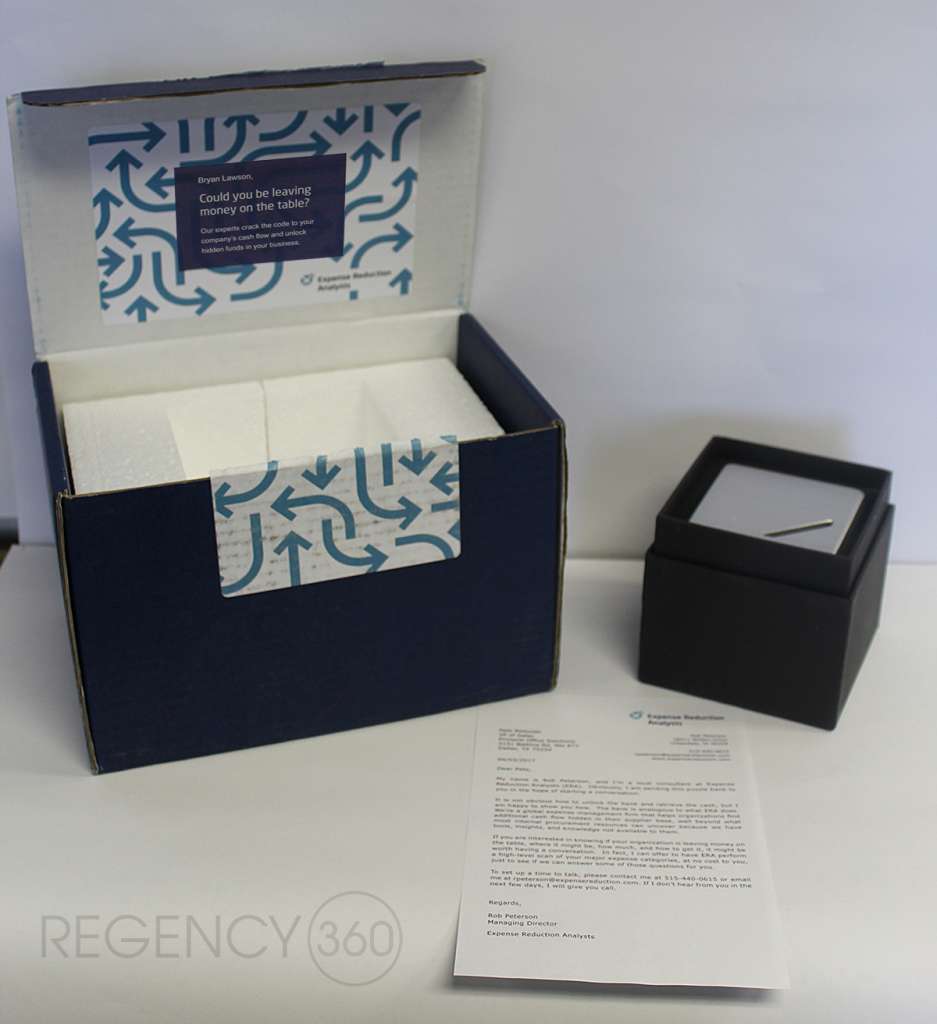 Guess what? Company representatives reported much better results in setting face-to-face appointments with high value prospects.
Here's what our client had to say:
"Not only did Stephanie and Josh face this challenge head on, they did so with a positive and understanding outlook which made working with them rewarding. Their responsiveness, knowledge, creative minds and positive attitudes made them rock stars. I would highly recommend using Regency360 for your marketing needs."
So, what was the magical message that led to valuable face time with CEO's and other C-level execs? I'd love to share the details with you—off-line, of course. Call my direct line anytime.
Pete Redondo
214-223-2317