Did you know that almost 60% of today's internet access is done using a cell phone? What started as a 50 ton machine that filled a 20×40 foot room in 1946 has developed through the years into a tiny tech machine that lives in the palm of your hand. As technology advances, practices for developing websites has to advance with it. Simply "designing a website" doesn't cut it. Now that the internet is readily available across digital devices of all shapes and sizes, the importance of responsive web design is at an all-time high and is a critical element of success.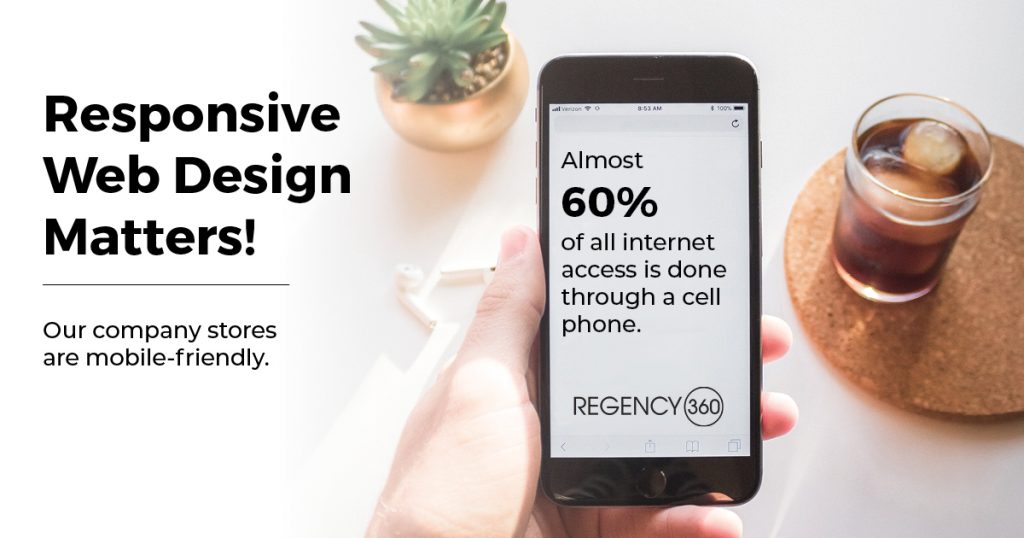 What is responsive web design?
Responsive web design means that the website is able to render in different ways, adapting to the size of the visitor's screen. Responsive websites will load without any missing elements or distorted imagery, automatically resizing while also maintaining a consistent presentation.
Why does responsive web design matter?
As stated at the beginning of this article, almost 60% of today's internet access is done using a cell phone. Additionally, a whopping 94% of internet users judge websites on responsive web design. Think about the last time you went to a website on your phone or tablet, and it didn't fit your screen or function smoothly. Did you stay on the site, or did you search for an alternative that was easier to see and use? Most people who come across a website that is difficult to navigate, will leave.
How does responsive web design affect eCommerce?
82% of people have conducted business activities on a mobile device. In the fast-paced environment that Corporate America has made the norm, being able to complete business tasks across all devices is critical to maximizing efficiency. This includes the ability to make purchases on an eCommerce platform. 50% of today's total eCommerce revenue generates from a mobile device. If your purchasing platform isn't set up for responsive use, your user experience will suffer – and you could be missing out on potential sales.
The importance of responsive web design going nowhere but up, making it critical in today's online environment. Therefore, our company stores have this technology  – giving you easy access to company branded products on any device. Is your current purchasing platform setting you up for success? Contact us today to talk through how our platform can improve your user experience and overall satisfaction with purchasing company branded materials.
---
1-844-726-6212
Find us on social!
Facebook | Twitter | Instagram | Linkedin
---
The statistics in this post are from an original blog article published by Infront Webworks.